"Camp Third Act accomplished its goal of challenging us to thoughtfully consider our future and provided some frameworks for addressing decisions."
Before the next full Camp Third Act on the Wake Forest University campus in the Fall of 2021, several mini camps will be held around the United States.  Gregg Levoy, author of Callings and featured facilitator for Camp Third Act, will lead attendees through discussion and discovery.  Mini camps will also include time for gathering, networking, and sharing.  We hope you'll join us for the mini camp in your community!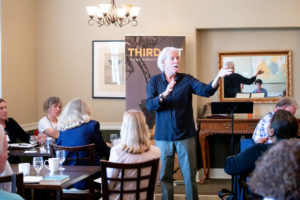 Mini camps will generally follow this schedule:
Breakfast and gathering
Workshop: The Call of Prime Time: Reinventing Yourself in the Second Half of Life
Networking Lunch
Mini Camp Locations:
March 7, 2020 – Raleigh, NC
October 17, 2020 – Atlanta, GA
Spring 2021 – To Be Decided
Cost to attend includes continental breakfast, lunch, workshop, and materials and may vary by location.